More News & Events
My wife Jeanie has run the finishing end of the business for 20 years. Jeanie, our daughter-in-law Sheri, and my good friend Bo Perry took over cosmetic repair of the piano's case. Another major challenge for me was getting them not to make the piano's finish look too good.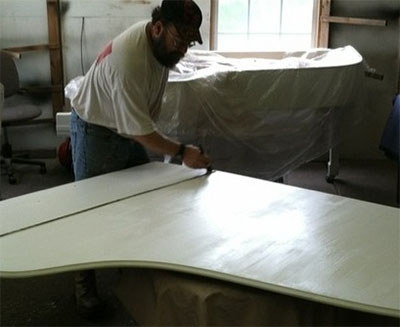 This Steinway B had been painted white with a brush, as many "road dog" pianos and Hammond organs are. The rationale is that their cases get damaged with the frequent setups and tear-downs on the road. Painting keyboard instruments white or black allows quick and easy touch-ups, and from the audience, they look terrific. In our shop we routinely do satin, semi-gloss, or high-gloss rubbed lacquer finishes. We look for the slightest flaws to be corrected before delivery. I know this sounds funny, but I had to remind my refinishers constantly that their job was to make the B look as it did when it was on stage with the band, right down to the paintbrush marks.
Brush marks on a Steinway? Yes, that's what was required to make this piano as it was prior to the flood. Pictured left, Bo Perry puts the finishing touches on the lid.
Some of our satisfied clients are Vince Gill and Amy Grant, Studio Instrument Rentals (S.I.R. Nashville), Brenda Lee, LynyrdSkynyrd, ASCAP and BMI Nashville, noted songwriter-producers Billy Sherrill and Michael Omartian, Shuff's Music of Franklin, Steinway, and dozens of area churches, schools, and studios.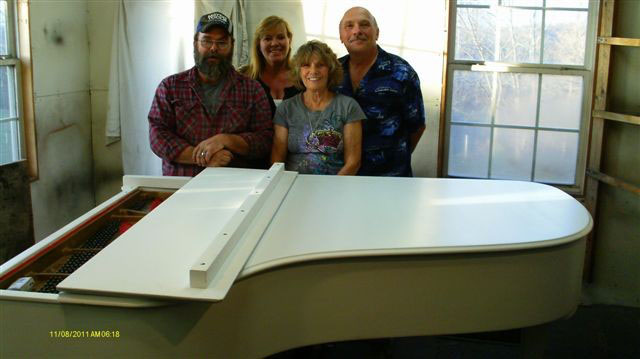 Ready to rock! From left: Bo Perry, Sheri Spencer, Jean and Sam Lewis.
Contact: Sam@SamLewisPiano.com or call 615-417-7007